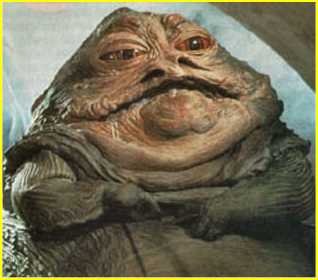 Accenture CEO Jabba the Hut, commented on the pending contract to outsource Texas Welfare: "Huh, huh, huh, huh! Jok we no bi wa ha ha no Billion Dollars he gu. Best deal for Tax Payers, ku wee gee. Huh, huh, huh, huh, huh!"

Here's an interesting update on
(the Bermuda based corporation) Accenture's plans to get its slice of the Texas Welfare pie
.
Accenture looks for large space
Mary Alice Kaspar
Austin Business Journal Staff

Accenture LLP and subcontractor Maximus Inc. are hunting for roughly 150,000 square feet of space the two companies will need to fulfill a $1 billion state contract.
Any office deal rests on successful contract negotiations with the Texas Health and Human Services Commission, real estate sources say.

Sources pinpoint the 141,900-square-foot Southfield office building in South Austin as a likely option for the companies. Few large blocks of space remain on the market, and that building -- at the northwest corner of I-35 and Ben White Boulevard -- is vacant.

Hundreds of employees are expected to need a place to work should the state contract become a reality, real estate sources say, although the number of workers isn't clear yet.

"Accenture is in contract negotiations with HHSC. Work sites related to that contract are not finalized and will not be announced until the contract is signed," Accenture spokesman Jim McAvoy says. "Any speculation on the locations and [square feet] of office space related our contract negotiations is just that -- speculation."

Accenture's main Austin office is in One Barton Skyway at 1501 S. MoPac Expressway. Accenture employs about 320 people in the Austin area.

The Southfield office building was purchased in late August by Southfield Partners LP. One of the general partners in that deal is longtime Austin real estate developer John Lewis, who couldn't be reached for comment.

In February, the Health and Human Services Commission announced a "tentative award" to Accenture for call center services.

The deal becomes final if the two sides agree on a contract. Reston, Va.-based Maximus Inc. (NYSE: MMS) would be Accenture's subcontractor.

The estimated value of the five-year contract is as high as $1 billion.

Not so happy with the pending Accenture-Maximus deal is Armonk, N.Y.-based IBM Corp. (NYSE: IBM), which has sued the State of Texas over alleged "irregularities in the procurement process," company spokesman Ian Colley says. He says the lawsuit, filed in mid-March in Travis County District Court, was the only way the company thought it could "get a fair hearing."

Citing the pending litigation, he declines to comment further.

Jennifer Harris, a spokeswoman for the commission, says Executive Commissioner Albert Hawkins has asked that the Office of the Inspector General review the process.

Harris confirms the potential $1 billion value of the deal, although she says financial terms and the associated numbers of employees still are up in the air.

The commission is discussing whether it would be more efficient for the state to operate a new call center or outsource that work, she says.

The goal is for a new call center to transform the way the commission's clients apply for and receive health and human services benefits such as Medicaid and food stamps, Harris says.

The commission's current benefits system operates with technology that's more than 25 years old, she says.

About 6,500 employees from across the state help hand out those benefits, she says, but roughly 2,300 positions could be eliminated with the new system. She says the commission will rely on attrition and retirements to minimize job losses.

"It's important to note that there will be job reductions whether we outsource the call centers or not," Harris says.

"What we're looking at is a significant transformation and modernization of the entire eligibility system."

Accenture is the U.S. subsidiary of Accenture Ltd. (NYSE: ACN), the world's largest management and technology consulting firm.

Maximus provides an array of program management and consulting services, primarily for local, state and federal agencies.

Mary Alice Kaspar can be reached at (makaspar@bizjournals.com) | (512) 494-2519.